A house dedicated to hospitality since 1890.
Did you know that Hotel Eiger once went under the name Hotel Bristol? Would you like to know more about the story of family Heller and their ties to Hotel Eiger? And why was the restaurant named Barry's? Come with us on a «journey through time» …
1890
The hotel was built in the 90s.
1900
The 45-bed hotel was called Grindelwald during this period and was run by Mr. Ernst Bühler.
1901
The hotel was bought by Mr. L. Michael Madérin from Zürich.
1902 – 1907
Mr. Hans Lüdi became the new owner and renamed the hotel "Bristol". Expanded to 60 beds, then sold to Mr. Schlee, who went bankrupt. Thereafter locals carried on (for example the Boss brothers).
1911
the Hotel Grindelwald-Bristol corporation was founded, with the former owner Mr. Hans Lüdi as chairman.
1915
Mr. Hans Lüdi declared bankruptcy.
1926
The neighbouring "Beausite" (now Hotel Spinne) acquired the Bristol, both businesses were merged into the English association "Polytechnic Chalets".
1890 until 1960
1960
Rudolf Märkle senior bought the Beausite and the Bristol.
1962
Take over from his daughter Marianne and son-in-law Beat Heller-Märkle, change of name to "Hostellerie Eiger". The Gepsi Bar and garden terrace with grill was built.
1963
New building Eiger 1. Birth of daughter Nicole Heller.
1966
Birth of son Daniel Heller.
1969
The famous Bar "chez Marianne" opened.
1972
Opening of à-la-Carte Restaurant Gourmet (today's Barry's).
1977/1978
New building Eiger 2: Diningroom with Mittellegi-, Biwak- and Eigerstube, 18 twin- and 6 single rooms, different apartments and the staff house.
1986/1987
The Gepsi Bar was rebuilt, a lift was installed and the roof in the Eiger 1 was renovated.
1989
Bar "chez Marianne" was torn down, hotel lobby was built on the ground floor.
1992
Renovation of the hearing system and sauna, steam bath installation.
1993/1994
Behind the hotel building, the Eigersunna-chalets were built.
1994
Top floor Eiger 1 was converted into 2 suites and 2 spacious twin rooms.
1995
Instead of the souvenir shop, the Bistro Memory opened with its own kitchen and new toilets.
1996
The front desk was redesigned and a lobby on the 1st floor was built. The ventilation was restructued and the fire alarm centre was renewed.
1961 until 1998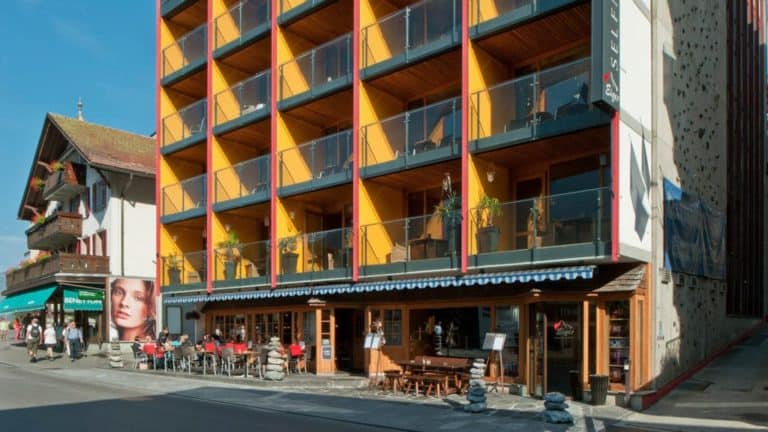 1999
Daniel and Gisela Heller-Thum officially took over Hotel Eiger.
1998/1999
Renovation of twin rooms and apartments in the Eiger 2.
2000
15 rooms in the Eiger 1 were provided with special glazing and softly refurbished. Birth of Lukas Heller.
2001
On the 1st January the hotel was turned into a limited commercial partnership. Large reconstrucion- and renovation phase: in June the dining room "Galleria" with satellite kitchen was built. Impalement of Eiger 2 and inbetween (restaurant and main kitchen). Opening of our themed restaurant Barry's. Birth of Jennifer Heller.
2005
Opening of the 1st Selfness Centre in Switzerland! A new offer is a supervised fitness area, sauna facilities, a blossom pool, a gymnastic room, a physiotherapy and a hairdresser.
2007
Opening of our wine- and whisky lounge on the 1st floorwith more than 100 wines from all over the world and 50 single malts from Scotland. Opening of the renovated "Eiger's Guest House" with 3 apartments with ***+ standard.
2009
Wine-lounge turns into Smoker's lounge. Non-smoking area in all restaurants. Restructuring of facade Eiger 1 and renovation of 10 rooms in the Eiger 1.
2010
Connection to Holzwärme Grindelwald (warmt from wood – district heating).
2011
Restructure of waste disposal area / kitchen extension. Realisation of a "showroom" Eiger 2. Massage room "Silence" with Alpienne-products.
2012
Redesign of the Gepsi Bar.
2013
Redesign of rooms and suites on the 5th floor Eiger 1 / redesign of rooms on 2nd floor Eiger 1.
2014
Redesign of 10 rooms in Eiger 2, facade and stairway.
2015
Redesign of 5 rooms in Eiger 2.
2016
Redesign of Galleria dining room.
2016
Privat Spa as well as 3 treatment rooms.
2018
new elevator in Eiger 1 with door show and smart mirror (1st installation in Bernese Oberland!)
2019
Renovation of twin rooms Lifestyle chic rooms
2020
Redesign of backoffice / front desk / entrance
2021
Realization ski and bike room
Renovation of rooms in staff house
Traffic light system at the driveway & sidewalk to the parking lot
2022
Redesign of first floor with Barrys Lounge, info desk and toilet facilities
Redesign of Bietschhorn Suite
2023
Rebranding to Eiger Mountain & Soul Resort
1999 until today